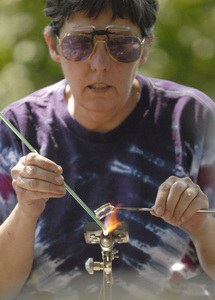 In
1995, I began working with hot glass, and have been making glass buttons since 2001.
I'm a member of the National Button Society,
and my work is available at several state
shows throughout the year.
My lampworking (torching) studio is along the enclosed front porch in my NJ home.
I design and create all the design elements for the glass canes used to make the buttons.
The colored Moretti glass rods I use are imported from Italy.
Every button goes from
the flame of the torch into a 950 degree kiln to anneal (cool down slowly).
This stabilizes the glass as it cools down evenly and
prevents cracking.
Then, each item is soaked in a solution of sodium bi-sulfate to remove fire-scale
from the brass shank and
cleaned
with a brass brush.


Each button is made on a brass button shank and signed
with
a slice of
my glass signature cane
on the back.
I like the
backs looking as good as the front.
It'
s a
pleasure to
work in my studio
making these
glass treasures.
In August 2010, I started adding the YEAR under my initials.
Occassionally, I list items on EBAY and ETSY selling to collectors all over the world.


Some of my earlier button designs are listed in Elizabeth Hughes 2010 Edition of

"The Big Book of Buttons".
Modern Paperweight Buttons, Pages: 249, 251, and page 252 (color plate 50A).